Trier Today – Calendar of Events
Date: Saturday, August 11, 2012
Wine and Sparkling Wine Tastings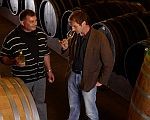 Laufweinprobe
Das besondere Wein-Erlebnis
Start: 12:00 p.m.
Event location:
Bischoefliche Weingueter, Gervasiusstrasse 1, 54290 Trier

Advanced sales agency:
Tourist Information Trier
and in all of Ticket Regional's advanced sales agencies
for telephone orders: +49 651 9790777
"Die Liste der Spitzenlagen ist fast endlos, wie auch die Wege im ausgedehnten Fasskeller, der sich unter der Trierer Innenstadt ausbreitet." Gault-Millau Wein-Guide 2010

Erkundigen Sie den weitläufigen Fassgewölbekeller der Bischöflichen Weingüter in der Trierer Innenstadt.
Verkostigen Sie dort drei feinfruchtige und elegante Weine und einen Riesling-Sekt aus dem reichhaltigen Sortiment der Weingüter.

Treffpunkt: Haupteingang Bischöfliche Weingüter Trier, Gervasiusstr. 1, (Ecke Rahnenstraße)
Dauer: ca. 1 Stunde

Der Preis beinhaltet eine Führung durch die Fassgewölbekeller der Bischöflichen Weingüter, Verkostung von drei Weinen und einem Sekt.

Optional: ein anschliessendes Essen im Restaurant Cumvino oder Besuch der Vinothek der Bischöflichen Weingüter.

Die Bischöflichen Weingüter bewirtschaften den Weinbergsbesitz des Bischöflichen Priesterseminars, der Hohen Domkirche, des Bischöflichen Konvikts und des Friedrich-Wilhelm-Gymnasiums in Trier.
Die Weinberge, rund 130 ha, liegen in den Spitzenlagen an Saar, Ruwer und Mosel; sie sind zu 85 % mit der Rebsorte Riesling bepflanzt. Die feinfruchtigen, eleganten Rieslingweine aus den Steillagen der drei Flusstäler werden individuell im gemeinsamen Keller in Trier vergoren und ausgebaut.
Prices:
| | |
| --- | --- |
| | Cat. 1 |
| Normal price | 10.00 € |
Hotels in the vicinity
Restaurants in the vicinity
Sights in the vicinity
back to overview